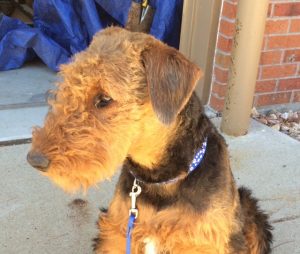 I have already introduced you to my dog Max whose instinctive behaviors often reinforce important business insights. As we do our routine neighborhood walks, it would be no surprise that he is always drawn to the waste receptacles that line the road, sniffing the containers to figure out their contents. In a previous article I encouraged business leaders to take on a similar curiosity with those waste and scrap recycling areas at your place of business because there is often significant treasure there to be found!
In any business that I visit, I welcome the opportunity to tour their operations, whether they are in a distribution, service or manufacturing industry. In those tours, I always gaze into the trash and recycling receptacles because there is always a great deal to be learned about their operations performance by viewing their contents.
As an example, in an initial tour of a manufacturing client, I noticed a large recycling container with the material drop from their plasma cutting operations. The stainless steel plate skeletons – balance of waste material left after the good parts were cut from the sheet – displayed a low material utilization due to the way the parts were nested. Thereafter, as part of an improvement project we weighed a quantity of the skeletons and found that their material utilization was a poor 65%. However, the company was quoting their products at an 85% utilization of each sheet so this issue was driving excess materials usage against standard plus adding cost variances and creating lower overall margins.
To correct the issue, we quickly changed the nesting parameters in their cutting software, trained the operators in the new process, established minimum plate utilization expectations, and finally, started weighing and tracking the utilization of every sheet to verify that the process performance was improving. Within weeks the nesting gains improved sheet utilization to over 90%, an incredible increase of 38.5%. The annual savings the first year amounted to almost $900K, and the cumulative savings over the next seven years totaled over $6.0M, a significant gain over their historical practices!
Regardless of the industry you are in, if you are handling or converting materials of any kind – wood, food, organic material, plastics, metal, etc. – or any purchased component or assembly that is consumed in some larger assembly, you should be motivated to pay attention to all process yields and the quantities of scrapped or returned components. There are any number of actionable reasons that the yields are low or scrap losses are high, but to identify the causes, the following types of questions need to be answered:
1.  Does the material itself – and especially if a natural material – have issues such that it is:
Damaged when it was received?
Shelf life out of date?
Out of specification?
Incorrectly specified by Engineering for this purpose?
Mistakenly purchased for this use?
2.  Is the material not usable because of handling damage:
From the supplier?
The freight company?
Internal material handling damage?
Inadequate final packaging/protection?
3.  Is the process or equipment itself, as described in the example above, needing more development or better controls to reduce waste and those associated costs?
4.  Are the proper measurements in place to capture and identify the wastes in the entire process system, and if not, what will we put in place to monitor and control this issue?
Given the characteristics of the materials and processes there can be any number of causes and effects that can negatively impact your bottom line, but if you are armed with a natural curiosity and discipline, these issues can be identified and corrected. Therefore, I strongly encourage the business leader to set the example to courageously "sniff out" and identify these problems. Meet with your process leaders to insure they fully understand all of the process and product losses that occur starting at the receiving dock, as it flows through the internal operations, and finally out the shipping door and into the customer's hands.
Of utmost importance, encourage creation of measurement systems that evaluate the scale and impact of each problem and that will continue to track all losses in the system as well as the impact of any process improvements. If you are successful, you can truly create treasure out of what had previously been thrown away.
As the leader, challenge your staff to join you in this important treasure hunt and I am confident that you will be encouraged with the gains!